Bay Mau Cooking Class and Fishing Pond are located on the riverfront in the beautiful Cam Thanh Hamlet. Bay Mau is a brother class to the popular Thuan Tinh Island Cooking Class. The Bay Mau Cooking Class is held at a traditional thatched Nha San (Coconut House), elevated above the water by poles. You can enjoy the fresh air and outstanding views during the tour and cooking class, something you will remember for a long time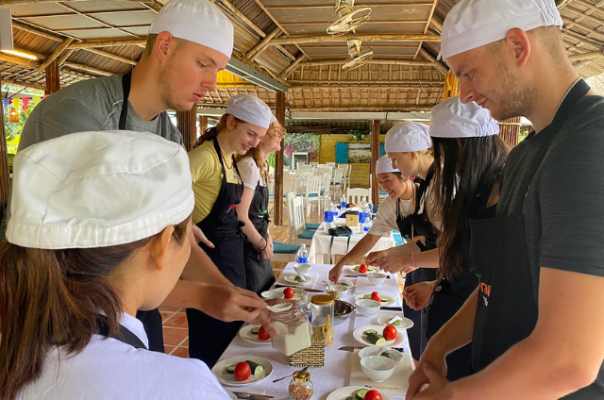 TOUR ITINERARY:
Tour guide will pick up you at the hotel and accompany you to the local markets with a shopping list! You will have a chance to meet the market traders and be taught to how to select the freshest local ingredients. This must be a truly memorable experience.

Then we will transport along the Thu Bon River by boats. This river meanders into the ocean about 5 km away from Hoi An Old Town. During the boat ride, you can enjoy the river views and see people living and working on the river.

We then transfer into smaller Basket Boats. Along the way the crew will teach you how to make hats, necklaces, rings and other items from the water coconut trees that play such an important part of the local economy and ecosystem. Many of the Cam Thanh locals earn their living on these trees.

Upon arrival to Bay Mau, you can catch fish and crab in the river and the pond. We will then grind rice in a Coi Da (stone wheel) to make rice flour in the old way. With handmade rice flour and the fresh ingredients, you purchased in the markets, you are ready to begin with cooking class!
Mi Xao Hai San
Fried Noodles with seafood. Ingredients: Mustard green, prawn, squid or beef
Banh Xeo
Crispy Vietnamese Crepes filled with pork and shrimp, bean sprouts and green onion. Served with lettuce leaves, fresh herbs and nuoc cham
Goi Cuon
Fresh Rice Paper Salad Rolls with Pork and Shrimp with a Tangy Peanut Hoisin Dipping Sauce.
Bun Thit Nuong
Grilled Vietnamese pork with vermicelli noodles and herbs eaten with prepared fish sauce (nuoc cham
Time: Daily
– Morning tour: 8:20 AM – 2:00 PM
– Afternoon tour: 13:20 PM – 6:00 PM
Tour includes:
–          Pick-up & drop off at hotel
–          Hats, Sunscreen, Umbrellas available on request.
–          Ice Tea, Bottled Water, and free-flow fresh Passion Fruit juice
–          English speaking tour guide.
Price: 690.000VND/ pax
Cancellation is made 1 day prior to your departure date, no fee will be charged.

Cancellation is made within half day, %100 rate and tax will be charged.

Please note that the tour is organized by our partners!